12 septembre 2018
Du 5 au 18 septembre 2018, Galerie du Génie de la Bastille, PARIS.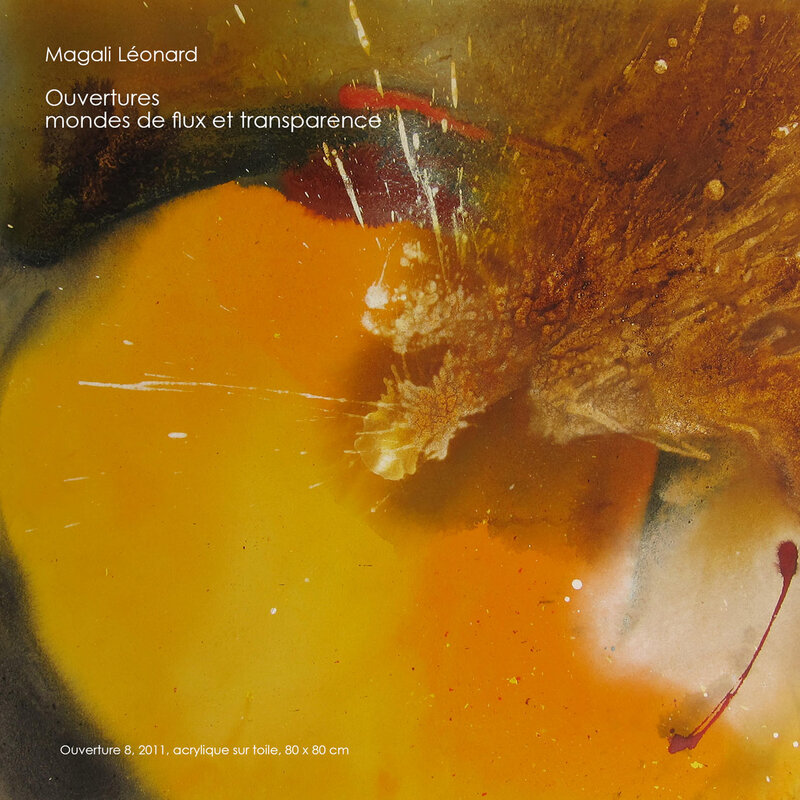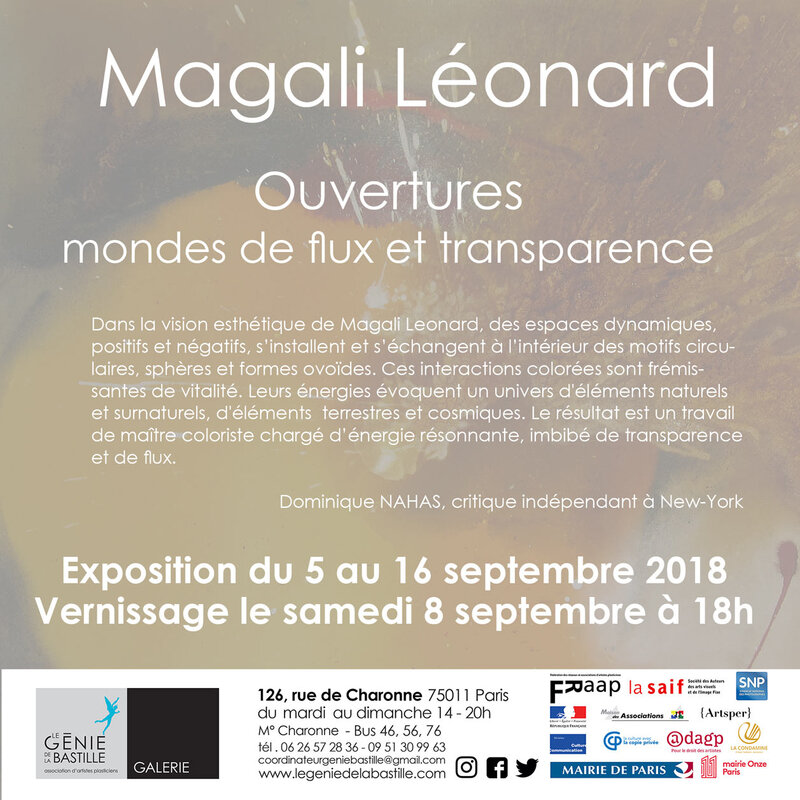 PRESSE :
Consulter le dossier de presse de l'exposition
16 février 2018
Artists have long found the window a compelling motif—as a barrier to or opening on reality or exterior worlds. Not only for its symbolic associations but also for its formal properties, the window has been adopted by painters from Johannes Vermeer to David Hockney as an effective compositional device that extends the picture's domain. French painter Magali Leonard makes use of the age-old artist's tool in her "Crossing" series. Her approach, however, differs in that the vision she depicts through the aperture is not a static image, but a shifting one. These dynamic and luminous acrylic paintings evolved from Leonard's continuous viewing experience from the window of a moving train as it powered west from Chicago to San Francisco.
The impetus for the series aligns with Leonard's practice, her devotion to exploring the relations—or "crossing"—between space, light, and color. In doing so, her canvases impart a distinct sense of flux—of appearing and disappearing, emerging and rescinding, drifting in and wafting out. They speak at once of primordial echoes and apocalyptic ruins. Like a Turner watercolor or Japanese scroll, they are sublime visions identifying human potential in nature's grandeur and boundless landscapes.
To be sure, viewers are apt to see distinct topographic imagery in the melding forms, reinforced by their earthy ochre and watery blue tones. It is hard, for example, not to equate foaming waves and a bleeding sun or willowy reeds and a heavy cloud with the drips, blots, and splatters that describe the panels of Crossing 2. In these paintings, Leonard re-envisions reality as abstraction, espousing many of the methods and ideologies of the Abstract Expressionists. Like Jackson Pollock, Leonard tackles her canvas with the force of her full body by placing it on the floor and working from all four sides, uncommitted to a singular viewpoint and dedicated to the consistent, all-over treatment of its surface.
But within the abstract canon, it is the Color Field painters with whom she shares the strongest affinity, not only through her conflation of figure and ground but by her technique in which she applies paint to canvas. By pouring and often diluting her pigments, Leonard creates veils of color that, as she puts it, "stir up" the space, alternately opaque and transparent, soaking into the surface and gliding across it. The disparate densities that result reflect the intrinsic variations of color and matter and infuse the imagery with great vitality. While in Crossing 1 the energy is nearly explosive, suggesting sprays of water crashing against rocks, the pervasive atmosphere in these works is more serene, an ephemeral dreaminess evoked by floating forms and blending hues. By presenting her paintings in adjoining panels, Leonard reinforces a sense of spatial continuity.
The view through the window, now moving, has become unrestricted, transforming physical grandeur into a spiritual one.
Deidre S.GREBEN September 2007 independent critic New York city (catalog "Crossings" Walter wicker Gallery December 2017)
Traduction du texte de Deidre S.Greben critque indépendante paru dans le catalogue « Crossings » Exposition 2017
Galerie W.Wickiser Chelsea 11eme avenue NEW YORK
Les artistes ont longtemps trouvé en la fenêtre un motif captivant- comme barrière ou ouverture sur la réalité ou sur le monde extèrieur. Pas seulement pour ses associations symboliques mais aussi pour ses propriétés formelles, la fenêtre a été adoptée par les peintres de Johannes Vermeer à David Hockney comme un dispositif efficace de composition qui étend le domaine de l'image. La peintre française Magali Leonard utilise ce vieil outil dans sa série des " traversées". Son approche diffère cependant dans le fait que la vision qu'elle dépeint à travers l'ouverture n'est pas une image statique mais qui se déplace. Ces dynamiques et lumineuses peintures acryliques se déroulent, issue de l'expérience visuelle continue de Leonard depuis la fenêtre d'un train qui permet d'aller vers l'ouest de Chicago à San Francisco.
Par l'élan de sa pratique Leonard dans ses séries fait coïncider son attachement à explorer les relations – de "traverser " – entre espace, lumière et couleur. En faisant cela, ses toiles transmettent une nette sensation de flux — d'apparition et de disparition, d'émergence et d'effacement…entre trait et retrait
Elles parlent d'abord d'un echo originel et d'apocalyptiques ruines. Comme les aquarelles de Turner ou des rouleaux japonais, elles sont de sublimes visions identifiant le potentiel humain dans la grandeur de la nature et paysages illimités.
On est sur de voir apparaître des images , une topologie dans des formes fondues, renforcées par les ocres terriennes et les tons bleus d'eau. Ce n'est pas dur d'apporter la distinction de vagues écumeuses et saignement du soleil ou d'un roseau élancé et un nuage lourd par des gouttes, des taches et éclaboussures que décrivent les pans de "Crossing 2". Dans ces peintures, Leonard, envisage la réalité comme abstraction, embrassant les méthodes et la pensée des expressionnistes abstraits. Comme Jackson Pollock , Leonard attaque ses toiles avec la force de tout son corps en les mettant au sol et en les travaillant sur les 4 cotés , non lié à un seul point de vue et engagé par conséquence dans un traitement all-over de la surface.
Mais au sein de cette approche abstraite , c'est avec les peintres du Color- Field qu'elle partage la plus grande affinité, pas seulement à travers sa fusion de figure et de la terre mais par sa technique qu'elle met en acte pour peindre ses toiles. En versant et en diluant parfois ses pigments, Leonard crée des voiles de couleur comme si elle faisait bouger l'espace, en alternance opaque ou transparent, les laissant tremper et s'imprégner au travers de la toile. Les densités différentes dont résultent d'intrinsèques variations de couleurs et matière insufflent une image avec grande vitalité. Pendant que dans "Crossing 1" l'énergie est proche de l'explosion, suggérant des jets d'eau allant s'écraser contre des rocs, . L' envahissante atmosphère dans ces travaux est plus sereine, l'éphémère , comme dans un rêve, évoqué par des formes flottantes et nuancées. En présentant ses peintures en jonction de pans alignés, Leonard renforce le sens de la continuité spatiale.
La vue au travers de la fenêtre, maintenant en mouvement ne restreint pas , transforme la grandeur physique en une grandeur spirituelle.
28 septembre 2017
Des poétes , réunis autour du haîku , éditent une revue : "L'écho de l'étroit chemin"
Dans le dernier numéro ils m'ont fait l'honneur d'y associer certaines de mes photographies lorsque je pouvais dire : dans la sphère des oiseaux , hommage à la plume, libre...
Voici le lien à cette parution: http://association-francophone-haibun.com/lecho-de-letroit-chemin/dernier-numero/
Bonne lecture à tous
Doux chemin poétique à chacun
30 mai 2017
Pour voir la suite de l'article : http://canolinecritiks.blogspot.fr/2017/05/magali-lenonard-plume-fugitive.html
English version :
Magali Leonard, Fugitive Feathers
Every morning, the artist walks near an ornithological center in the Woods of Vincennes.
This rendezvous in communion with nature is a meditative and creative approach that allows her to reveal, through her photography, the transient passages on our landscape in a series entitled "The Sphere of Birds".
With an ethereal realism, she takes note of curious anomalies, zooms in on tiny movements between sky and earth. Magali Leonard photographs in the moment, without staging, feathers of swans and other birds, which she happens to come across. The feather is an apparition which becomes the anchor, the aesthetic mark of the artist's delicate, fleeting and aerial vision of nature.
The down of the feather is highlighted when exploring this world of black and white. This texture effect, without retouching or filters, focuses on the fold of white and that of light; themes that are dear to the artist.
Shadow and light, death and life, are at the fringes of the disturbing strangeness evoked by Freud, where the beautiful and the shapeless, the void and the full, the domestic and the foreign converse.
A torn wing reveals this balance of forces. The dramatic tension slides from the overall picture to the smaller details, which give meaning to the seemingly insignificant. A drop of rainwater, frost, a fly… are among the many details that draw the eye. From left to right, our gaze advances then turns back to probe the nature of the visible space more closely. This oscillation creates a distance from reality; between the possibilities of recognition and fictional associations.
"The Sphere of Birds" is presented on a roll of canvas, 8-meters long, resembling photographic film in large format. With neither beginning nor end, one is free to move around this imposing structure. Part of the work has been voluntarily left unrolled, hidden from the spectator, still to become. We are invited to imagine and "develop" the end of the film for ourselves. Five columns of photographs printed on aluminum accompany the rolled canvas.
In skillfully planned continuity, the ensemble's dynamics reveal the afterimage. The feathers are in motion, always different, never captured in the same place. Under our gaze, each has a story to tell. They stir our senses in an exhibition space, the perfect backdrop for the further expansion and unfolding of their ever-changing tales. From one reality to another, though the passage of sight and touch, they lead us into a shared space.
Fugitive and almost dreamlike, Magali Leonard's photographs generate the vague sensation of being in the presence of an elusive phenomenon. They provoke visual experiences with a fundamental link to Space and Time, with loss of reference as the central notion.
One is free to wander and lose oneself, cultivate one's own interpretations, to follow the trace of a hidden meaning, while contemplating these natural, beautiful, enigmatic and poetic scenes.
03 février 2017
SELECTED SOLO EXHIBITIONS

2018 OPENINGS : worlds of flux and transparency, "Génie de la Bastille Gallery", rue de charonne, PARIS

2017 CROSSINGS Traversées Walter Wickiser Gallery , 210 Eleventh Avenue New York, Chelsea

2016 TRAVERSEE, CROSSING » Génie de la Bastille »Gallery , rue Charonne PARIS

2016 Duo , Nova Gallery Osaka Japan

2015 Openings : worlds of transparency and Flux , W.Wickiser Gallery New York 10001

2014 Cosmogonies - Contemporary art center 798, 58 art gallery, Beijing, China

2014 Galerie Double S Paris st Germain 75006

2011 French guest to the Roccia Gallery, Montreal, Canada

2010 Arts visual Center Albert Chanot, Clamart, France

Workshops : open doors, Tourist Information Centre, Clamart, France

2009 EMKA Gallery, Paris

2008 Amanado Gallery, Osaka, Japan

Workshop : open doors, Clamart, France

2007 Workshop : open door, Clamart, France

2006 « Bock de Bohême » Paris, France

2004 Nova Gallery, Osaka, Japan
SELECTED GROUP EXHIBITIONS

2018 Anjo city Museum JAPAN Artec Art association

"universal echo" ST Martin space Artec Art association PARIS 75003

"Humanity Unity" Artec art Association 3rd district Council PARIS 75005

Texas Contemporary Art fair , W.Wickiser Gallery , HOUSTON Texas

2017 « Epicentres », Bastille artist Group, Génie de la Bastille Gallery, Paris 75011

2016 Aspen Ice Garden fair ,foire d'Arts, W.Wickiser Gallery, Aspen, Colorado, USA

2016 « promenons nous dans le bois »"Walking in the wood » Bastiille artist Group , Commines space, Paris 75003

« Passerelle vers l'Empire du milieu »"1ere édition salon « Association Art Vision Monde » Paris

et « passerelle vers l'Empire du milieu » PEKIN

2015 Exposition « Artibrak »invitation rencontre de l'association du Génie de la Bastille, Voorburg-la Haye Holland>

Exposition « Chroniques » Artistes à la Bastille Design Art center Paris 11ème

2014 Exposition « Utopia » génie de la bastille, cité internationale des arts, Paris

Exposition « Tout feu tout flammes »Artistes ala bastille, Galerie AAB, Paris

Exposition des artistes à la Bastille « Passworld » invités artistes mexicains salle Olympe de Goujes Paris 11eme

2013 Exposition « part X » Galerie Walter Wickiser Chelsea New york

Exposition « Même pas mal ! »organisée par l'association artistes à la Bastlle Design center Paris 11éme

Exposition « En mouvement »/ »In bewegung »organisée par le génie de la Bastille et l'associaton intackt Institut fraçais Vienne , Autriche

Exposition « photographes du génie » Maison des associations du 11eme Paris

Exposition « Les minis du génie » Galerie des AAB , les Artistes de Belleville, Paris

60 ème salon Espace arts et liberté Charenton le pont

2012 "Cosmogonies" Galerie Ezair_Bego avenue Madison, New York 10001

Salon AEAF , galerie de Nesle, Paris 75006

2011 Walter WiCKISER gallery « Non objectivity » Chelsea New York

2010 Photographs of Woman / Photographs of women

Visual Arts Center Albert Chanot, Clamart, France

2009 Gora Gallery, Montreal, Canada

Permanent exhibition, Arte Bella Gallery

Exhibition : « vibrations white and black »

Fine arts society, Clamart

2008 Exhibition : « France's colors and Japanese's colors »

France-Japan meeting, Le scribe-l'harmattan space, Paris

Photography Festival : « Metamorphoses »

The Bassin de la Villette (The Villette Basin), Paris

Exhibition : « Surprises »

The Fine Arts Society, The White House's garden, Clamart, France

2007 Contemponary Japanese Kakemono, Paris

French guest

2006 Contemponary japanese Kakemono, Paris

French guest

2005 Hamazake Gallery Ashiya Japan

Nunokini Gallery Municipal Park, Kobe, Japan

2004 Third Fine Arts Exhibition Latin America –Japan

San Salvador, Salvador

French guest

Exhibition : « Winter gardens… Secret gardens »

Plastic Arts Centre Albert Chanot, Clamart, France

2001 Exhibition : « From the Unique to the Multiple »

Visual Arts Center Albert Chanot, Clamart, France
23 novembre 2016
En novembre 2015 l'assocition "Atistes à la Bastille" proposée une exposition "Chroniques" au Design Art Center du 11ème arrondissement à Paris
l'enjeu était de travailler avec un écrivain vivant
C'est ainsi que ma toile 4chronique 1" , 2015, technique mixte sutr toile a pris forme.
14 octobre 2016
Exposition du 5 au 16 octobre 2016 à la Galerie du Génie de la Bastille.
Retrouvez la vidéo de présentation de mon exposition :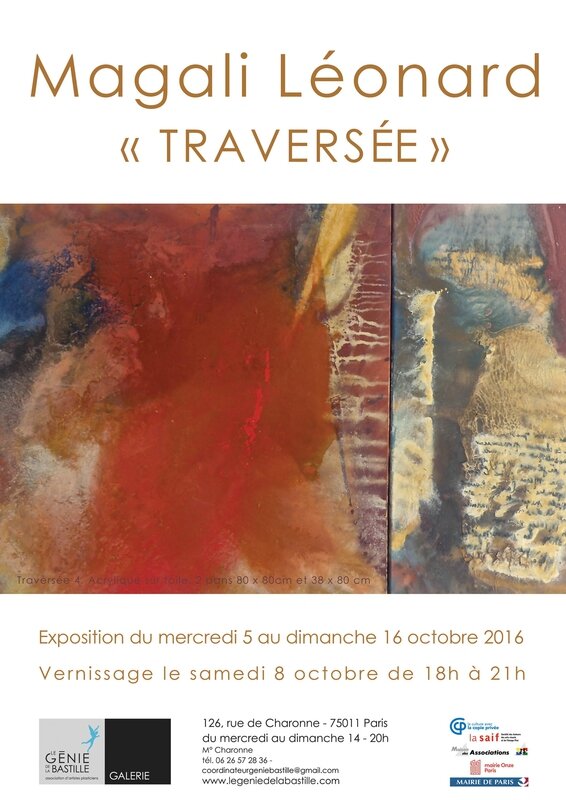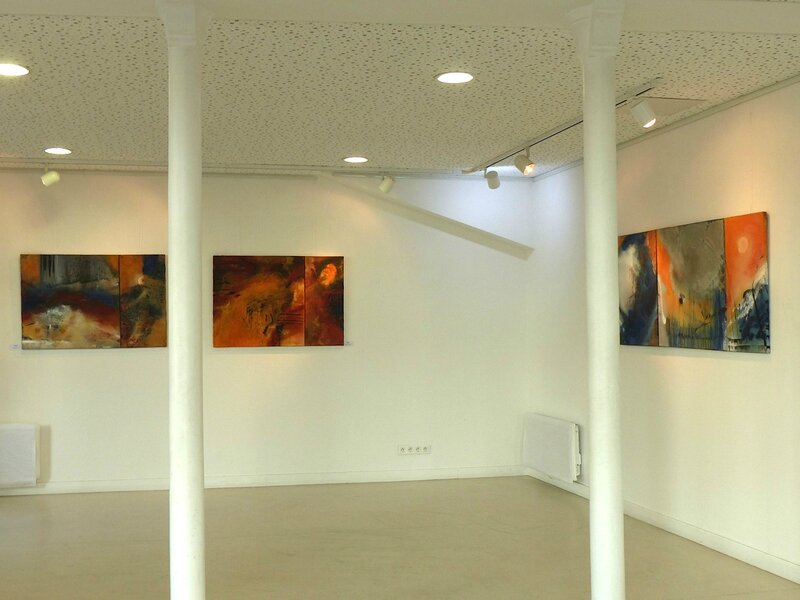 Extrait de la revue de presse :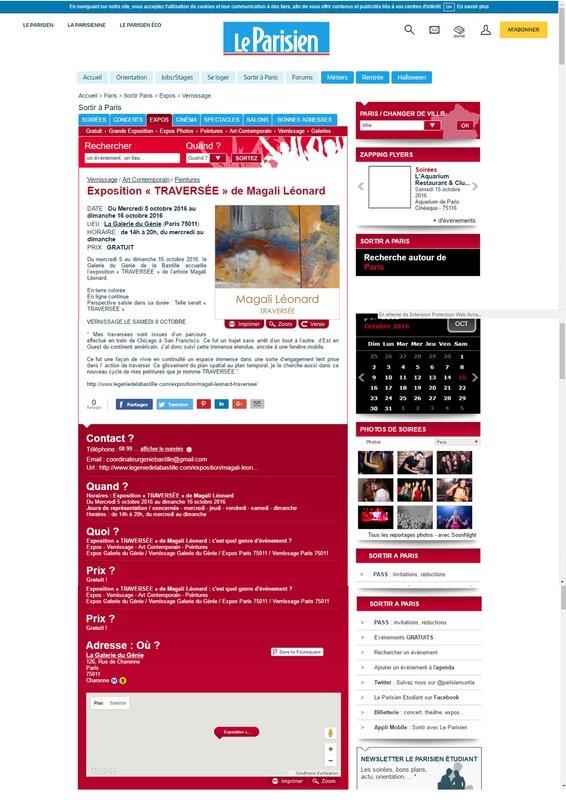 09 août 2016
En 2015 j'ai participé à l'exposition "Chroniques" avec l'association Artistes à la Bastille au Bastille Art Design Center de Paris, 11ème arrondissement.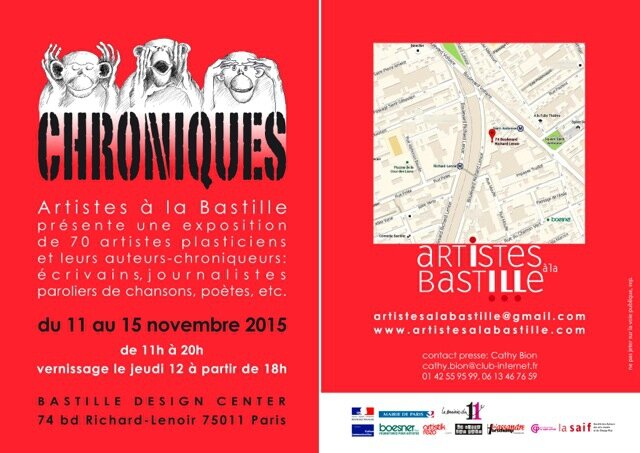 La proposition était de collaborer avec un écrivain vivant.
Ce haïku de Monique Leroux Serres est paru dans un recueil "Trente haïjins contre le nucléaire" édité en 2015 aux éditions Pippa realisé en hommage des anniversaire des 5 ans des évènements de Fukushima. Il a été conçu en collaboration entre les écrivains de haïkus de Paris et de Nagano au Japon.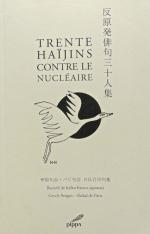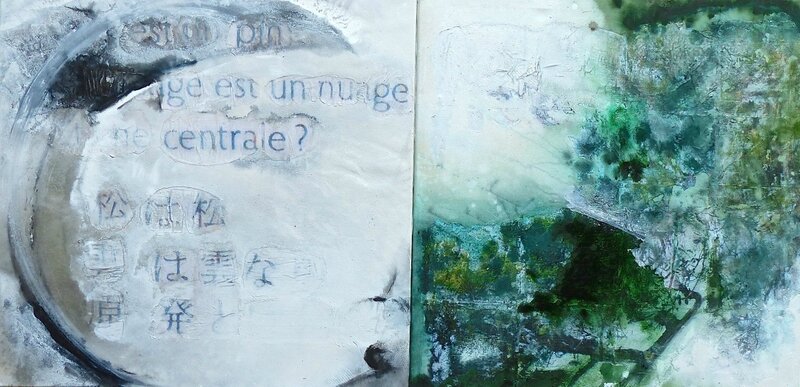 TOILE au titre de "CHRONIQUE 1" 2015 , Technique mixte sur toile , 2 pans de 80 x 80 cm soit 160 x 80 cm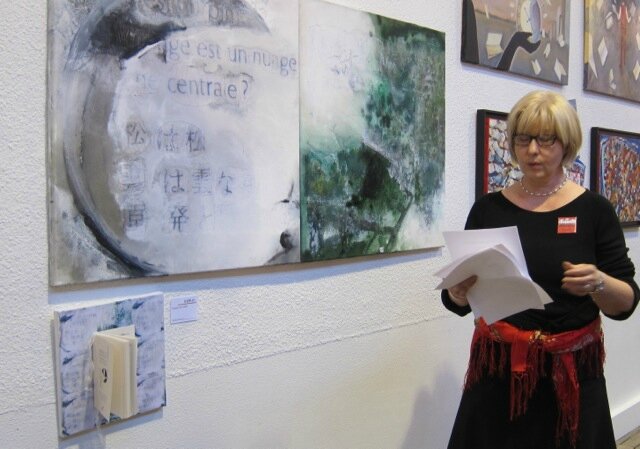 Monique Leroux serres est donc venue lire ses haïkus lors de l'exposition au Bastille Design Art Center.
Au printemps 2016 j'ai eu le plaisir d'exposer à la galerie NOVA à Osaka
l'exposition "DUO" du 28 mars au 9avril 2016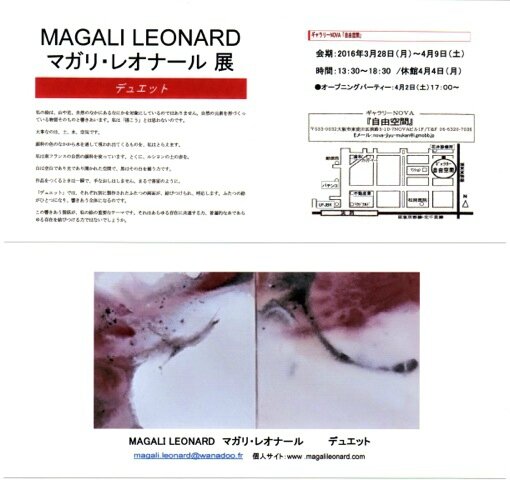 Je reste très honorée et touché car le directeur de la Galerie Monsieur Kageyama a accepté de présenter "Chronique 1" et l'a accroché en pan libre sur rue dans la structure architecturale en pans coulissants de son espace.
Voici le propos global de l'exposition d'Osaka
22 mai 2016
En préparation à mon exposition de décembre 2015 Mr Nahas m'a soumis ce questionnaire qui m'a permis de synthétiser mes réfèrents dans ma démarche artistique.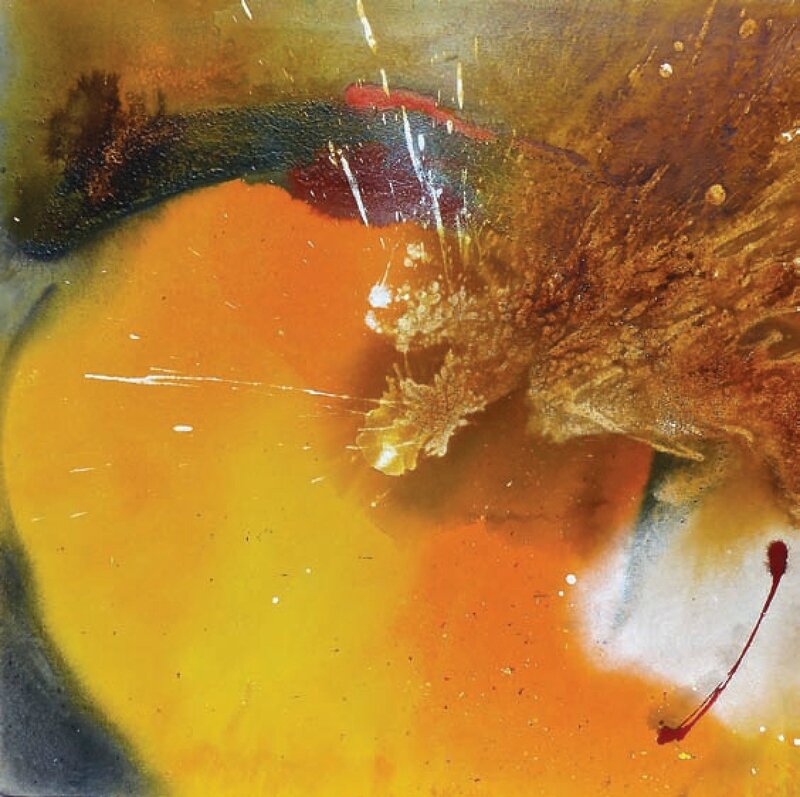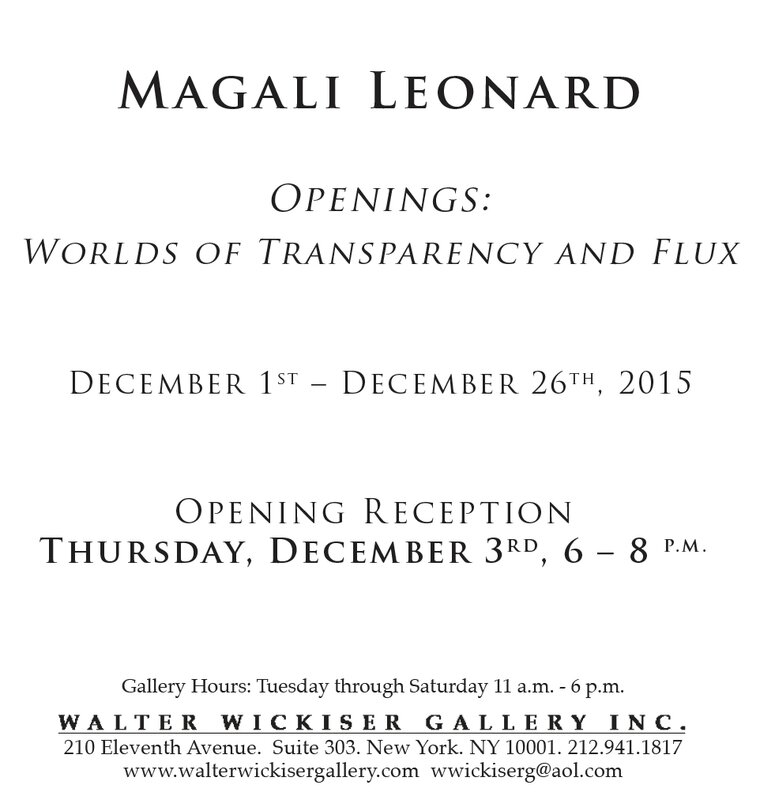 - Your selection /choices of colors, tones, tonalities: which colors do you feel best suit the cosmological and numinous aspects of your aesthetic?
- As I told you for my last exhibition I often use natural pigments reflecting the natural colors of the earth, including a vast range of ochres - materials linked to the earth in earthy tones.
I sometimes use warm colors; a strong presence of oranges or, in some « openings », yellows: I use colors that radiate light and "stir up" the space, emitting powerful energy.
I also use whites to create depth, extending and giving breath to the painting. The colour black is used in a thicker density.
Water, of course, is a vital element. I use my colors with abundant water for transparence, sometimes juxtaposing thicker densities to show heterogeneity of colour and matter. The flow of the water allows the colors to be set into motion.
- Please describe the various physical /phenomenological conditions of mark-making in your practice: do you work on a flat surface/that is table or floor or do you engage with yr surfaces as they are hung flat against a wall? Or both? If both, please describe.
1) I have written about my presence in act of creating – the movements of my body, in motion, around the canvas on the floor.
There is no top or bottom to the canvas. No set viewpoint.
Afterwards, I must decide how the canvas should be displayed, taking into account multiple viewpoints. In an ideal exhibition, the painting would be able to displayed showing all four possible viewpoints, in rotation for example.
As I mentioned above, my movements and the colors' movements embodied in my paintings are facilitated by the use of water, a vital element which enables me to move the colors in a fluid motion.
It is like a choreography, a dance. I named my paintings« corps et graphie / chorégraphie» prior to 2007. I think of it as a body calligraphy. I showed it in Japan in 2004 for my first solo exhibition in Osaka.
My canvas always maintains a relationship between its dimensions and my body. It is a constant "hands on" fight as I work. There exists a continuous link between my body and the support.
2) Colour is not applied in brushstrokes as it is important to keep the colors free as I work with, and in the movement of, the flux of colour. I work with that which is escaping, nothing is fixed. I must capture what appears during the process of painting. Something always appears, revealed by colour and the elements.
However, in « Openings », one action was new to my process:
At the beginning there is always a first gest within a first movement, which places a mark in the space of the canvas. If it was music, it would be a like a gong that sounds, a first resonant percussion, a resonant entrance; it is an open circle - not a drawing, not a sign. This first gest creates the energy necessary to enter into the act of painting, creates an open tension. From this moment on, the energy circulates in open space.
At the end of the painting, accents, points of intensity can appear, as if taking a last risk. In fact, there is always a risk that all will be lost if this last gest is not right. Generally, however, in this final moment, the intensity becomes amplified in the painting.
- Are there any filmmakers or writers that have affected you in the securing of your aesthetic?
- I like to go to cinema see a lot of movies and retrospectives. However, if I had to choose only one for my « Openings », I would choose « Pandora », where Albert Levin experiments with the « essence of time » and Ava Gardner goes back to her origins.
As for writers, I would choose some philosophers to express the form of my thoughts and my work.
Leibniz / soul-body-world / To be in articulation on the world. Every thought for Leibniz is in relation with the universe.
The capacity of humans for universal communication. When something new arrives, everything is played anew.
He is the philosopher of the event - nothing really fixed
harmony of the accord of the " monades »: all the points of space are in relation to each other ; there is a common order in everything , a harmony, the idea of the "globality in the universe"
(It brings to mind Michel Jonas singing Leibniz « unis vers l'uni » !)
Spinoza /question of joy/ l'Ethique
Joy as it affects the deepest part of an individual.
Bergson/time
In the same time, no one time but timeS, (perception is turned back onto itself)
and
Deleuze/time
As the «coexistence » of all life experience. That which is alive at every moment, in a state of continual fluctuation.
There would therefore be no line, no geometry of time but a sort of vertical time.
François Cheng « Vide et plein » ( empty and full ) and his poetry.
In Asia, the painter as the calligrapher using lines to create and the act of placing a clear accurate line in the white of the empty paper (or the silk ) without the possibility of a redo. Only one chance. The true breath of life.
I know that in my paintings I need to keep this "breath" circulating.
Empty space is as important as the filled space.
I need to preserve some white empty canvas and I often keep reserves - reserved space for the original canvas, which amplifies the space.
Henri Maldiney, for example his two books « l'art l'éclair de l'être »"art being lightning" or « ouvrir le rien, l'art nu »
About what appears when we remove the appearance: (l'apparaitre quand l'apparence se retire)
The openness. The state of flux. The relationship between color and space. How transparency is linked with the openness.
The painter is not front of a blank canvas as somebody who has to show .
He is open to the canvas and the canvas is open to him. The painter opens the space.
- What affinities do you have with artists that are working contemporaneously with you either in Europe, the USA or worldwide? ( I want to explore other systems than the usual (and self-evident) modernist ab-ex stream of influences such as Pollock, Hantai etc.)
- The All over of course is important with the question of open space and the absence of a dominant viewpoint.
The abstract expressionist, The color fields about the relation between space and colors
Mark Rothko expecially about the relations between colors, space, light and spirituality…opened spaces (In 2011, I went to see his chapel in Houston.)
Pollock, of course. I am working on the floor so he is essential but there are big differences.
Firstly, I stretch my canvas on a stretcher. I need resistance to be able to control the different possibilities of movement and to keep the colors immersed in the canvas. Also, I build the space into the movements, mine and the flow and flux of colors.
Hantai he worked in the reserved space… with the circulation of the «breath of life» - as it is tied to the universe, which is of course important to me.
Donald JUDD about question of the relation of spaces : no center, multiplicities and harmony between the elements; As in Ley's mathematics. He built with principle of continuities.
All the points of space are in relation to each other and envelop the space in folds which reflect light materials, It is a concrete universe always in movement.
- Your work is evidently intuitive as are the choices you are making in terms of color/mark making etc.
With that understood and out of the way please answer the following question that pertains to your use of intuition if we are to understand that intuition isn't hocus locus but draws upon subliminal knowledge and allows the unfiltered, unfamiliar and unknown to enter your work: what role does intuition play in your work?
- I think I have to understand « intuitive » in the sense of « thought representation ».
Perhaps. Yet I have answered this through my choices of artists or philosophers to shed some light on my research.
- Please speak to the subliminal knowledge or knowledges that have been allowed to emerge into consciousness because of your use of/trust of intuition as a practicing professional artist. In your own words please answer the following double-sided question:
As someone involved in visual philosophy WHAT are you describing in and through your work? How are you describing (it)? in and through and as your work.
- I can't be the actor of my creation and its interpreter at the same time…
I could give some references which may help to understand the nature of my work.
I am not describing; I am not in a logic of intentionality.
Every space is a unique space in which I find myself in the presence of the action.
Every painting triggers my surprise.
I have to be receptive to what the painting is showing me.
I discover my painting for the first time I am some time in the surprise
The unpredictable nature of my work allows me to remain open to the act of creating.
- Please speak to your titles in your work: how do you select/choose your titles? From your perspective what is the importance/lack of importance of titles in an art work/in the making of an art work?
- I don't like to give titles to my work because they can often limit the way my work is perceived by the viewer. Titles can close their imagination. I prefer to provide a more open terminology, such as « Cosmogonies » or, in this case, "Openings" .
However, I did name a Cosmogony : "Microcosme Macrocosme" (shown in December 2010 at the Wickiser gallery). This painting was an exception to the rule but I understood the necessity to name the Universe released in my painting.
« OPENINGS »
I chose this title because it is in relation with what I show (through space/light/colors) and its internal meanings.
The paintings evolve from the first mark of an open circle, through light and the circulation of light, and through the spaces of color. Nothing is closed.
I added a number for every painting as representing a unique moment, a unique element in this continuity, a tempo to my creation.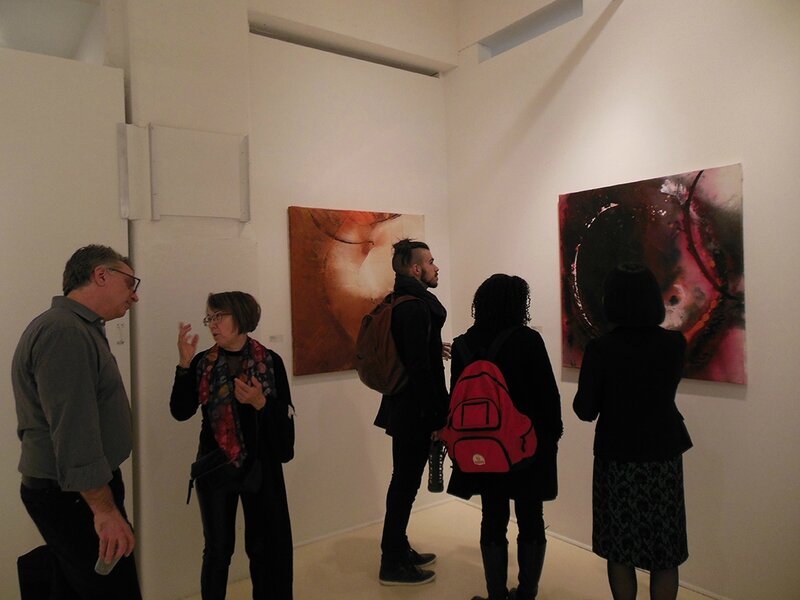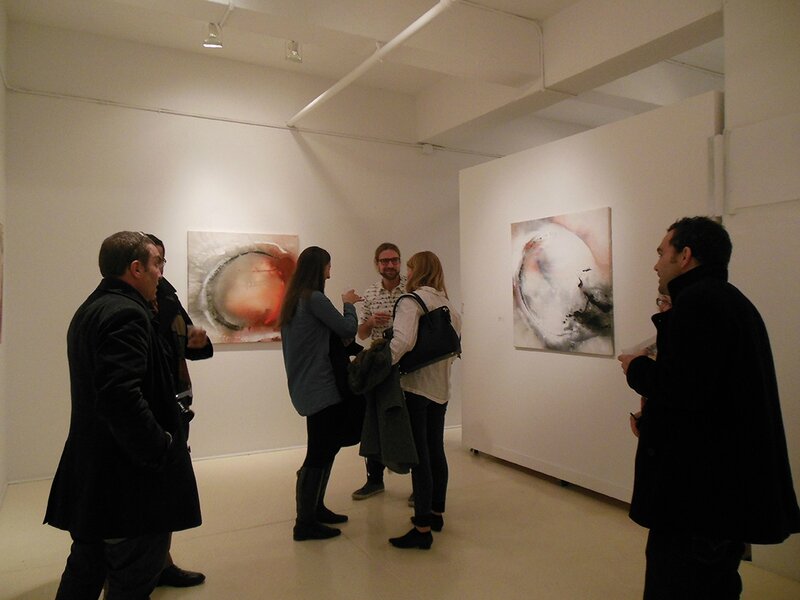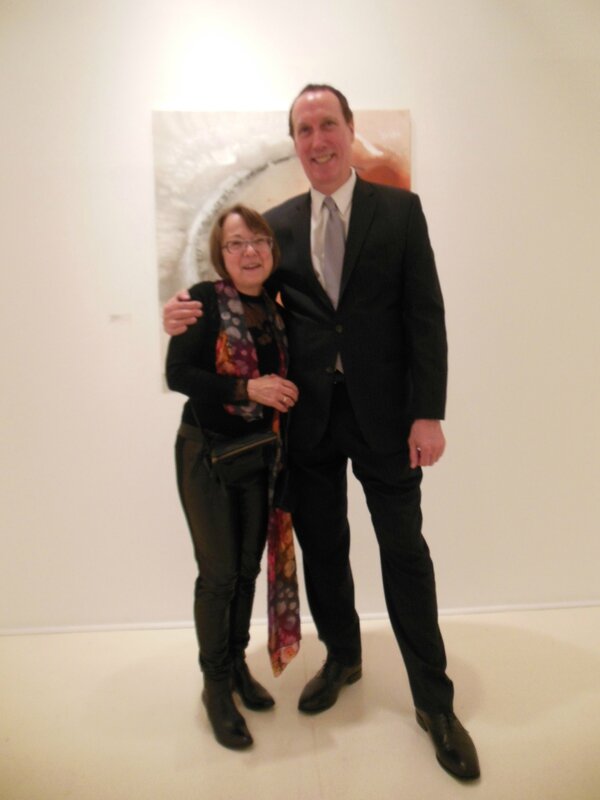 Texte de Dominique Nahas écrit à la suite de l'entretien, paru dans le catalogue de l'exposition "Magali Léonard - Openings : Worlds of Transparency and Flux", 1er décembre - 26 décembre 2015
Openings: Worlds of Transparency and Flux
By Dominique Nahas
Magali Leonard's "Openings" series of acrylic paintings are invitations. They propel us into pictorial universes in which the beholder is beckoned and beseeched to bear witness. In experiencing the artist's surfaces, her markings and ovoid shapes, what we sense and feel is flux, the very nature of beholding and of becoming, at once anticipated and then withdrawn. The principle that underpins Leonard's apparent fealty to exploring the dialectical fluctuations of appearance and dis-appearance, of integration and dis-integration, of ceasings and beginnings in her work is the principle of revelation. Leonard also skillfully pours her pigments to create veils of colors to, in her words, "stir and wake up the space and spacings of light" that permeate each painting. Transparency and opacity, through pouring, are mixed and matched by the artist, coloristically, to convey the presence of prima materia—the formative elemental condition leading to alchemical alteration, change, and ultimately, transformation.
In Opening 8 (2011), Leonard creates an explosive dynamic field of interactive marks and forms that excite, mystify, and delight the eye in equal measure. Leonard's palette is unforgettable: she selects a wide range of ochers, yellows, and oranges to suggest radiant light in some areas of the canvas, while suggesting volcanic and subterranean terrains in others. The artist builds upon the advances of pioneer American color field painter Helen Frankenthaler, as well as those of Morris Louis and Clyfford Still, to create supercharged color-soaked and color streaked surfaces that compete for the eye's attention in an all-over manner.
Vitality and vibrancy permeates Opening 8. Leonard uses her natural acrylic pigments as dynamic agents in their own right; pouring them on her pictorial surfaces, some of these colors are allowed to soak into the canvas, while others build up in thicker consistencies, and still others manifest in the form of rivulets, splatters and dribbles. The composition consists of different coloristic scenarios where shapes and marks seem to erupt naturally from within, like emerging fields of energies spreading beyond the edges of the canvas.
Such a promise of transformation is manifest in, for example, Opening 27 (2012). Leonard's painterly pours are used to create the suggestion of a floating nighttime world, of moody coronas and lunar eclipses. Leonard applies—or perhaps "choreographs" is a better term—a spectrum of thin and thick washes in her paintings to suggest a fluid dynamic between "emptiness and fullness" a term used by the French art historian Francois Cheng to describe the aesthetic principle in play in classic Chinese painting.
In Leonard's aesthetic vision, dynamic positive and negative spaces nestle and interchange within circular motifs, spheres and ovoid forms. These interactions, tinged with coloristic bravura if not ferocity, are tremulous with vitality. Their energies infer the realms of the natural and of the unnatural, of the earthly and of the cosmic. The results are painterly masterworks charged with resonant energy, drenched with transparency and flux.
###
Dominique Nahas is an independent curator and critic based in Brooklyn.